Monday, March 7, 2022 / by Raj Jaggi
Many economists predicted that home price growth will halt considerably in the fall of 2021, then decline further in 2022. That hasn't happened yet. All of the major pricing indices are showing double-digit price increases. Here's a look at their December reports on year-over-year pricing growth:
Federal Housing Finance Agency (FHFA): 17.6%

S&P Case-Shiller: 18.8%

CoreLogic: 18.5%
Here's a graph showing the progression of all three indicators for each month of 2021 to demonstrate that they're not seeing any signs of weakening.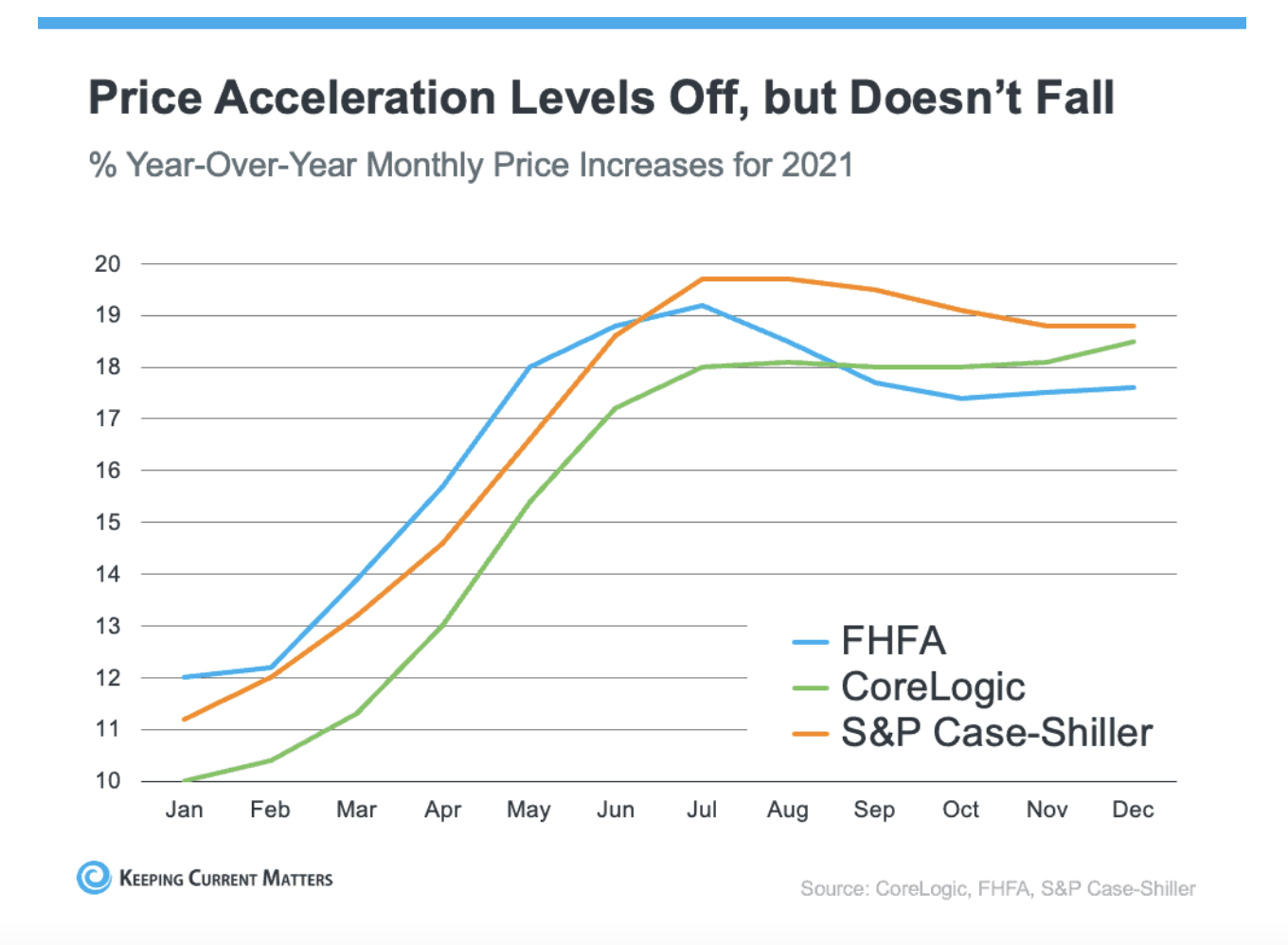 According to all three indicators, home price appreciation accelerated considerably from January to July last year, as shown in the graph above. Then, in August, it began to slow down as prices increased at a slower rate, but it did not decline. Many speculated that this would signal the start of a dramatic slowdown in-home price increase, but the data reveals that this was not the case. Instead, prices began to level out for a few months before accelerating again in December for two of the three indices.
To be clear, the slowdown is not synonymous with depreciation. The term "acceleration" refers to a price increase that is faster than the preceding month on a year-over-year basis. Deceleration refers to the fact that property values are continuing to climb but at a slower rate year over year. Depreciation occurs when the value of an asset falls below its current worth. No one anticipates that happening.
In fact, the FHFA reported that price increases accelerated in six of the nine locations it monitors in December. According to Case Shiller, appreciation accelerated in 15 of the 20 metros they track. As CoreLogic's Deputy Chief Economist Selma Hepp explains:
"After some signs of slowing home price growth . . . monthly price growth re-accelerated again, indicating home buyers have not yet thrown in the towel."
How Does This Affect You?


Whether you're a first-time buyer or looking to sell your current home and purchase one that better suits your needs, delaying your decision will cost you in two ways:
1. This year, mortgage rates are expected to rise.
2. For the foreseeable future, home values should continue to rise by double digits.
Waiting will result in a significant increase in your monthly mortgage payment due to rising mortgage rates and excessive property price appreciation.
Conclusion


Perhaps the best course of action is to follow the advice of Len Kiefer, Freddie Mac's Deputy Chief Economist:
"If you're thinking about waiting until next year and that maybe rates are higher, but you'll get a deal on prices – well that's risky. It may be more advantageous to purchase this year relative to waiting until 2023 at this time."
---